Speaker Audition for TEDxKobe 2023
2023年3月2日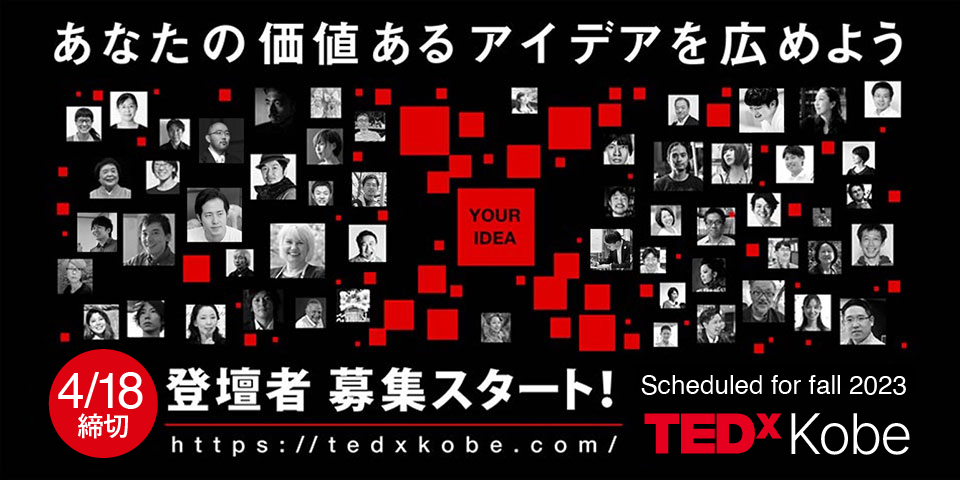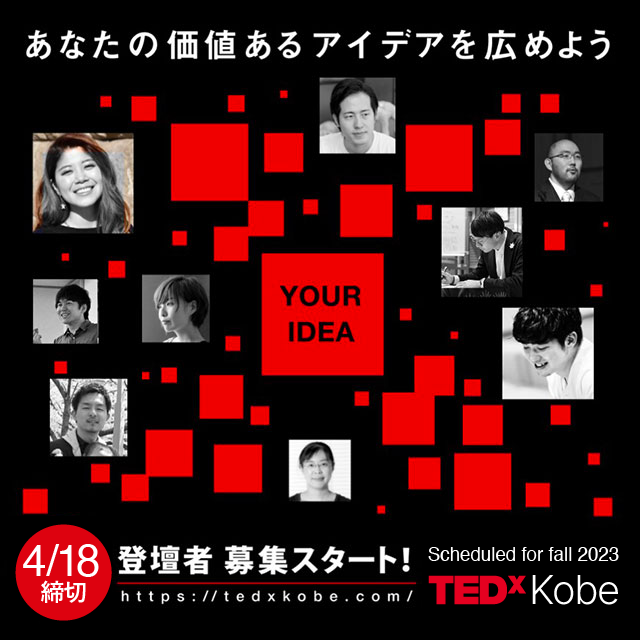 2023年秋に開催予定の「TEDxKobe 2023」で、より多くの方の素晴らしいアイデアを世界に送り出すべく、「スピーカーオーディション for TEDxKobe 2023」を開催いたします。
自薦(ご自身が応募)
他薦(オーディションに参加して欲しい方を推薦)
何れも受付けておりますので、是非ご応募下さい。お待ちしています。
スピーカーオーディション開催概要
日時
2023年4月23日(日)10:00 ~(予定)
※都合により変更される可能性があります。
場所
神戸市中央区(別途お知らせします)
オーディション方法
1次審査 書類審査
2次審査 オーディション(詳細は1次審査を通過した方にご連絡させて頂きます)
※審査基準は非公開です
募集締め切り
2023年4月18日(火)20:00まで
留意事項
オーディションでの発表、TEDxKobe2023での発表やリハーサル、準備期間など、活動一切に対する講演料、交通費などの補助はありません
2次審査実施前にヒアリングをさせて頂く場合があります
TEDxKobe 2023に登壇が決まった場合、以下の準備イベントに参加して頂きます。(いずれも日程は仮です)

2ヶ月前リハーサル : イベント当日の約2か月前の土曜日もしくは日曜日
1ヶ月前リハーサル : イベント当日の約1か月前の土曜日もしくは日曜日
前日リハーサル : 2023年秋の土曜日もしくは金曜日
TEDxKobe2023 : 2023年秋の日曜日もしくは土曜日

※予定は変更になる場合がありますので、あらかじめご了承ください
お問い合わせ先
info@tedxkobe.com
TED、TEDxについて
応募フォーム
We will hold "Speaker Audition for TEDxKobe 2023" in order to send more people's great ideas to the world for "TEDxKobe 2023" to be held in the fall of 2023.
Self-recommendation (you apply for the audition)
Recommendations from others (you recommend someone you would like to audition).
We will be accepting applications from both of these categories. We look forward to hearing from you.
Outline of Speaker Audition
Date
Sunday, April 23, 2023 10:00 (予定)
※Subject to change according to circumstances.
Venue
Chuo-Ku, Kobe
Format
1st round : Document review
2nd round : Details will be sent to those who pass the 1st round audition.
※Criteria are undisclosed.
Deadline
Tuesday, April 18, 2023, 20:00
Notice
No speaking fees or travel expenses will be provided for any of the activities, including audition presentations, TEDxKobe2023 presentations, rehearsals, preparation time, etc.
We may conduct a hearing before conducting the second round of screening.
All speakers are required to participate below milestone events. (Schedule may be changed.)

-60days rehearsal : Saturday or Sunday approximately 2 months prior to the event date
-30days rehersal : Saturday or Sunday approximately 1 months prior to the event date
General Production : Saturday or Friday in the fall of 2023
TEDxKobe2023 : Sunday or Saturday in the fall of 2023
Contact
info@tedxkobe.com
About TED/TED
Application Form